Since the time I have my own studio for motorcycle photography, I have been wondering how other photographers work, which workflow they have established and what photographic approach they choose to create images. So at the end of October I went on an educational trip to visit my friend Ivo in London to work with him in the studio. I've known Ivo for several years from a forum for motorcycle photography. He works as a professional photographer and creates high-end studio images for the advertising industry. You can find his work at imagefactory-studio.com. We'd discussed photographic topics from time to time, but never met in real life.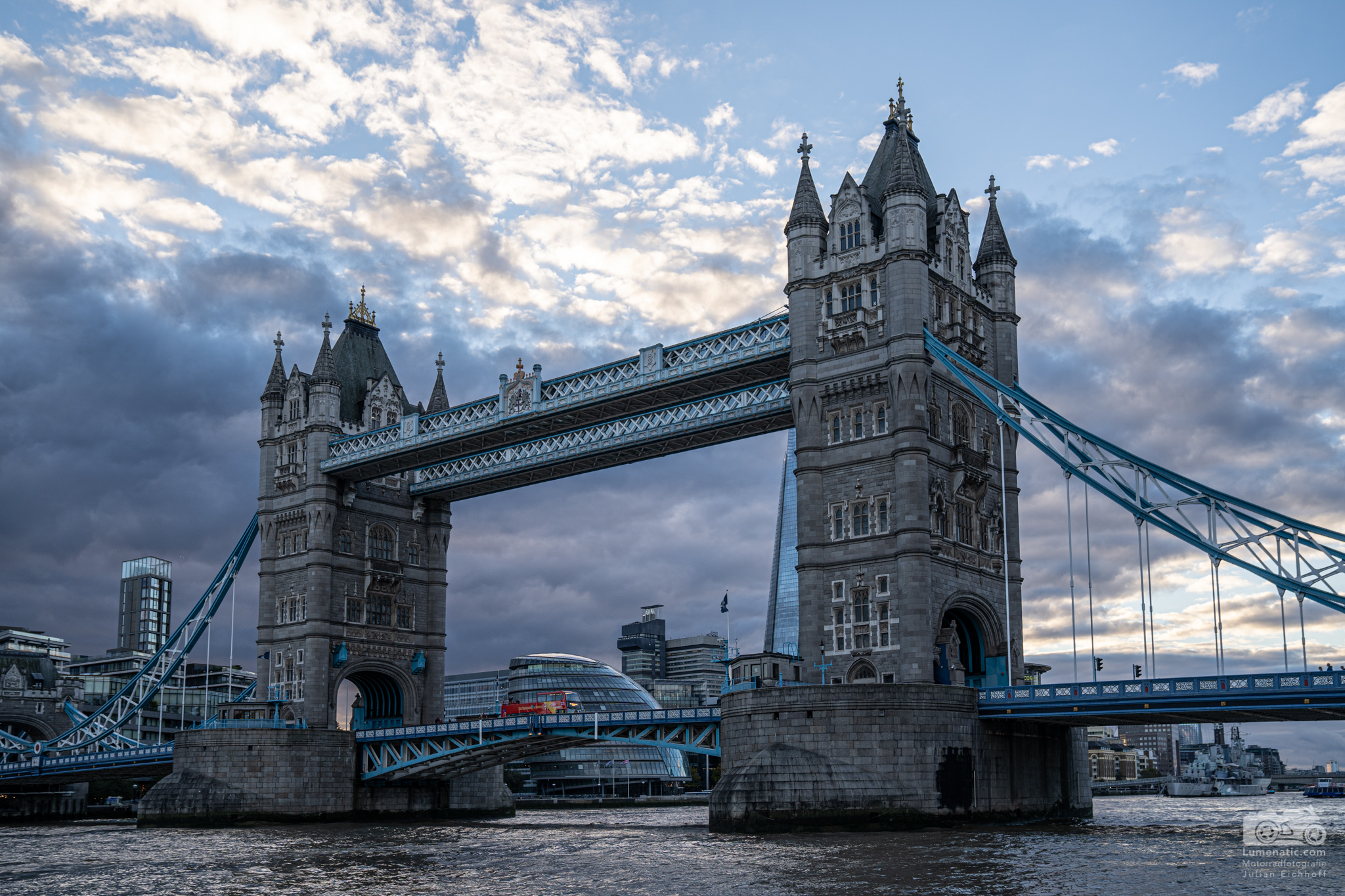 So I flew over to the British capital for an extended weekend and got to know Ivo personally. After a first dinner together in the biker café The Bike Shed, we started working in hos studio the following morning. We chose to shoot his own bike, a Triumph Bonneville.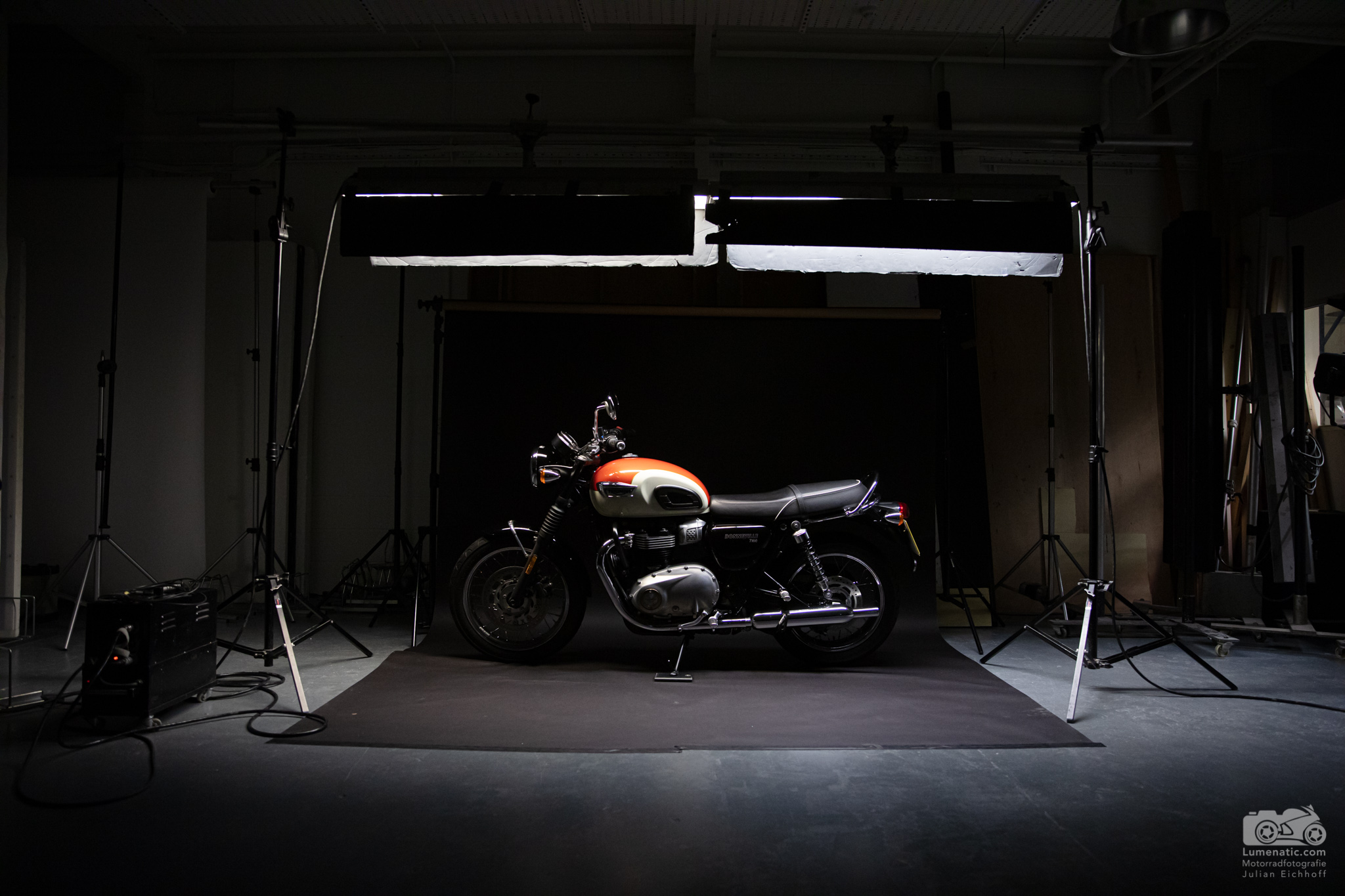 In the course of the afternoon we worked out the lighting setup for this bike. For the sake of simplicity, I'll summarize what we ended up working with. I chose black cardboard as background material, which was mounted on a normal background system. Since I use a white background in my own studio, this was something new for me. Two long, narrow flash tubes were set up above the machine, pointing straight down. To control the light, we hung large black cardboard pieces from the sides of the flashes. This helped focussing the light onto the bike and not illuminate the entire area.
Since light from above logically only illuminates the surfaces that are directed upwards, the sides of the bike remain dark. That's why we set up two large reflectors made of Styrofoam, which reflected light onto the sides of the machine. An additional flash, pointed directly at the reflectors, helped to boost the light even further. Compare the picture below with the one above this paragraph to see the difference.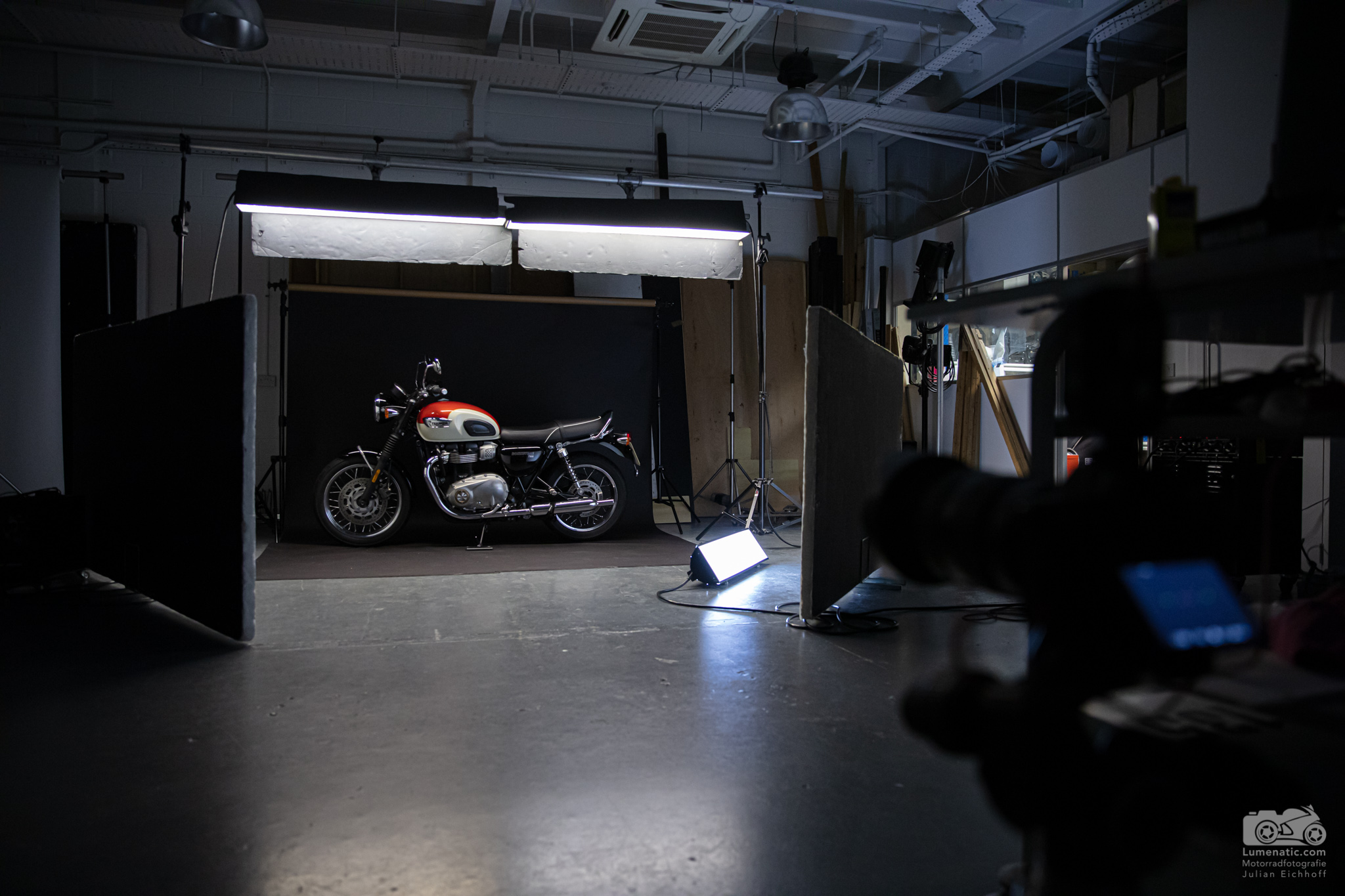 The camera was tethered from the computer so that the images could be viewed directly on a large screen. This is an important element in studio photography. If you want to work out fine details, pay attention to precision and want to achieve perfect lighting, the small camera display is not enough for assessing the results.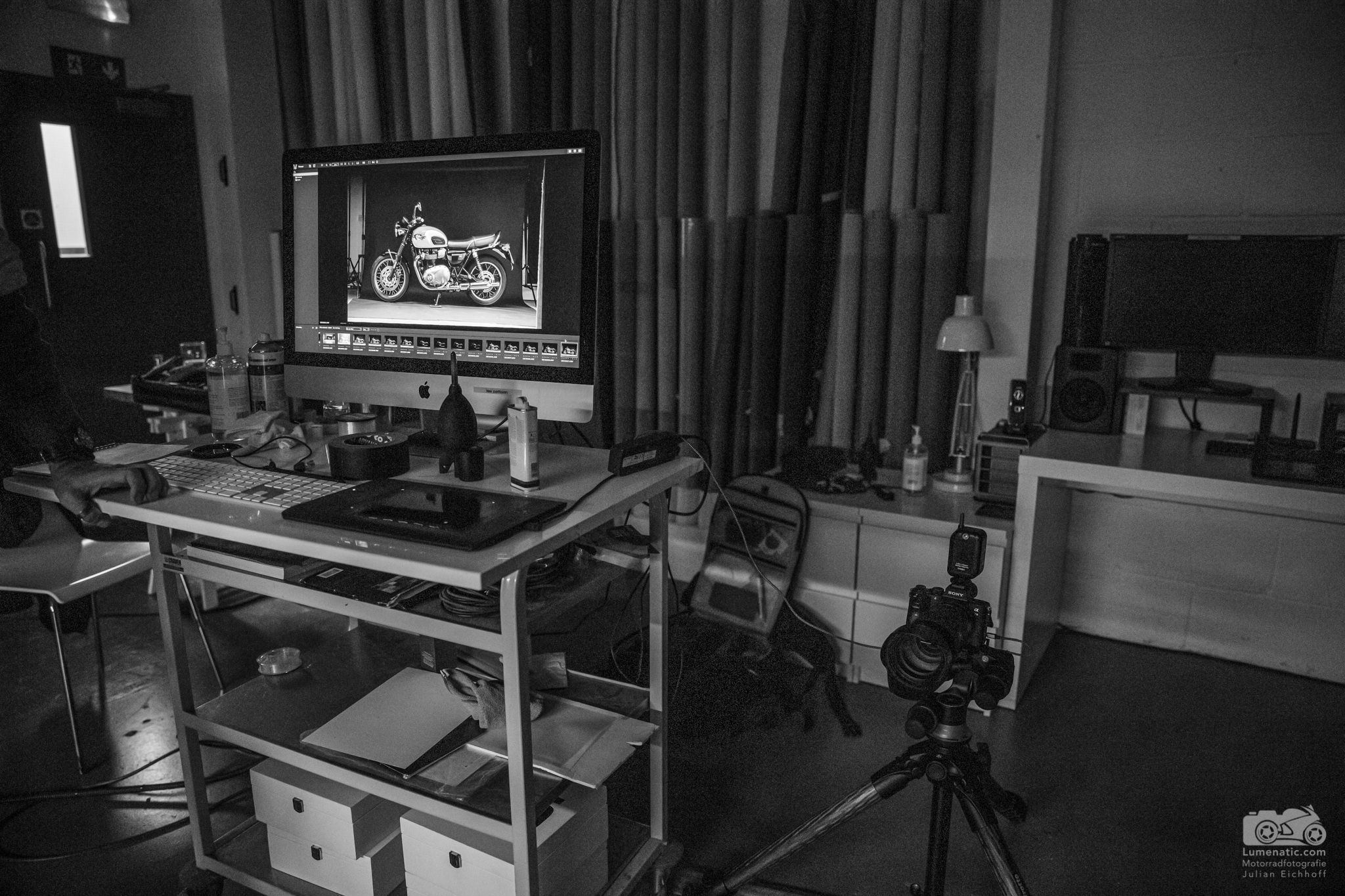 Below you can see a few sample pictures from the series. After taking a base exposure, a large, white reflector card was used to highlight different parts of the bike. From these individual images the final picture was composed in PhotoShop. (side note – Exactly ONE final studio photo of the Bonneville was produced over the weekend. The focus was on learning, not on the production of content).
The post-processing was done back home in Germany. I sent Ivo a few intermediate versions of the picture and always got valuable feedback, which helped me a lot. The processing was time-consuming, because I had to cut out the entire bike using paths. That took a while because the Bonneville has spoked wheels and every single space between the spokes has to be cleared. In order to get an absolutely clean background, it was swapped in PhotoShop. The shadow underneath the bike also had to be created artificially. This level of post-production was new to me. So far I have invested a lot of time and energy in my studio photos, too, but I have never worked on such a level of detail and precision before. It was priceless to get feedback from an experienced professional. I've seen flaws and imperfections that I just didn't notice before.
And here is the final picture: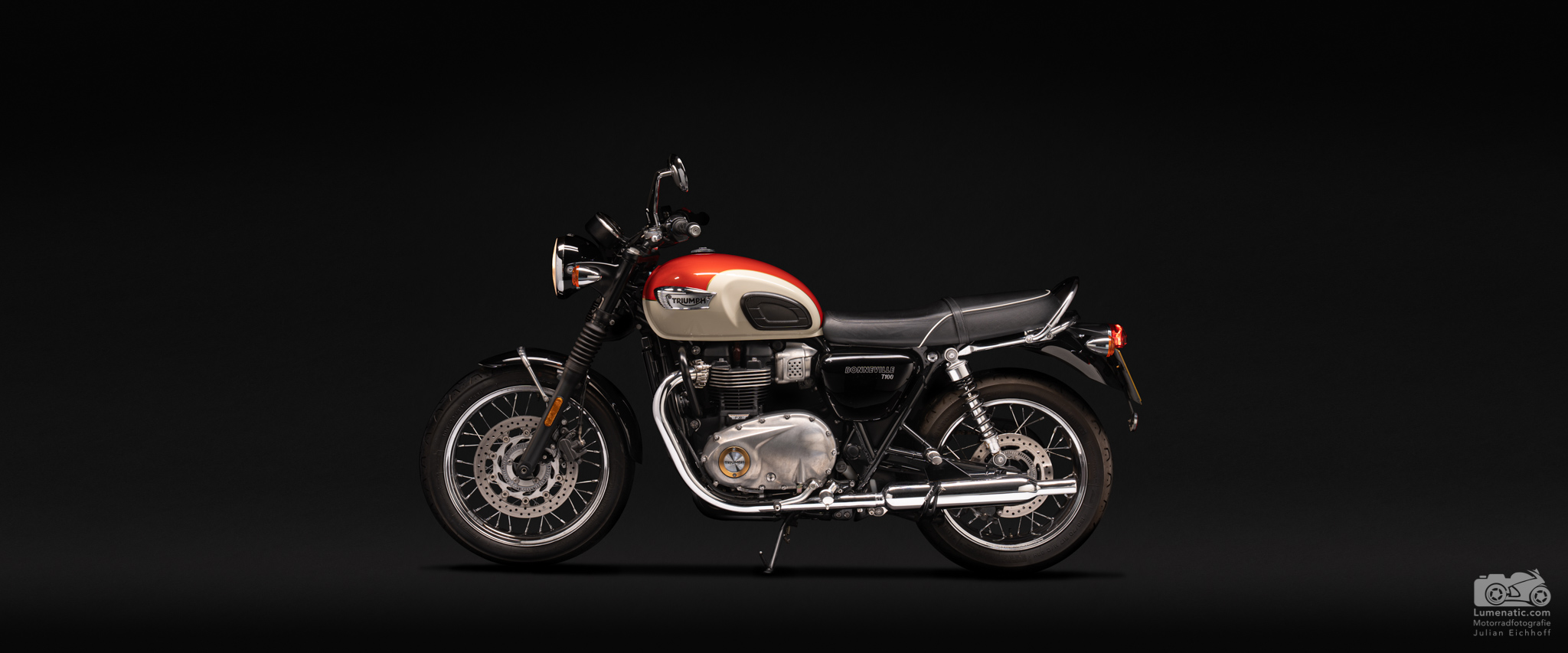 CONCLUSION
It was an incredibly enriching experience. Working under professional guidance in the studio, receiving feedback from an experienced professional and gradually improving your own image – that produces a steep learning curve. As a nice bonus, I had two evenings in London to explore the city a bit. After almost two years of pandemic, that also felt infinitely good. Seeing something different, experiencing a different country, travelling and being surrounded by people who speak a foreign language. I hope that at some point the time will come when we can move and travel more easily again. And when that moment comes, I have additional ideas for photographic trips!